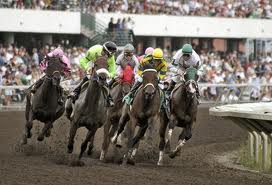 If you're ever in one of those situations where it's a great summer weekend, but there just doesn't seem to be anything going on and you can't get to the lakes, you may want to try heading to Canterbury Park in Shakopee.
Each weekend, or more specifically, Thursday through Sunday, there is live racing happening at the track. It's a great option for a cheap night of entertainment. In fact, it's free for general admission, and even the reserved seats are only $2 or $3, depending on whether or not you have an MVP Card.
You can also bet on the horses. The Canterbury Park website has a Playing The Horses page that explains how to go about placing your bets, gives you the best betting options for beginners, and even tells you odds, types of bets and payoffs. Much like the Stock Markets, higher risk equals higher payoff, generally.
Canterbury also hosts some special events for the summer, such as Extreme Race Day on August 8. Extreme Race Day features racing, but with ostriches and camels rather than horses. Just pick a favorite camel or ostrich and let the wackiness ensue.
Of course, there's the concerts that are hosted at Canterbury as well. For instance, August 1st Vans Warped Tour Hits the park.
Horse racing season at Canterbury Park runs through the end of August. For more details about the schedule, see the calendar.
For more information about Canterbury Park or betting, visit www.canterburypark.com.