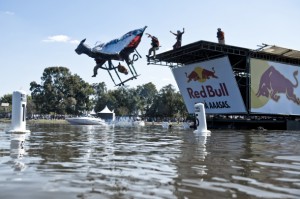 If you've been looking for an excuse to get down to the waterfront on these hot summer days, a perfect opportunity may be coming up this Saturday, July 24, when Red Bull Flugtag hits the Twin Cities for the first time ever.
So, what's "Flugtag?" That's what you're thinking, right?
Flugtag is German for "flying day." Red Bull is bringing this "flying day" to the Twin Cities this year. It will be held on Harriet Island, near downtown St. Paul. The event challenges its participants to design, build and pilot homemade flying machines off a 30-foot high flight deck in hopes of taking part in the miracle of human flight, but often end up plunging into the waters below. Teams are judged on three criteria: flight distance, creativity of the craft, and showmanship. These criteria have inspired flying tacos, prehistoric pterodactyls, winnebagos with wings and even Snoopy and the gang to compete. This year you may or may not see a giant flying coffin, the St. Paul skyline, and even a giant pickled dog on a stick.
After a year with no Red Bull Flugtags in the US, 2010 promises to be bigger and better than ever, and the teams are stoked. Over 35 excited teams are competing in the Twin Cities, mostly from Minnesota, but there are also teams from as far away as Michigan, Illinois, and Missouri.
The current record in the U.S. is held by a giant banjo that flew 155 feet in Nashville in 2007. However, the world record was set in Austria in 2000 when a craft flew an amazing 195 feet.
Check out some entertaining videos on Flug TV at www.redbullflugtagusa.com.
Gates open at 11am and the first flight departs at 1pm. The last flight takes off at 3:30 and will be followed by an awards ceremony. The event is free, open to the public, and family-friendly. There will be food and beverages available for purchase from on-site vendors.
Harriet Island is at 175 W Water Street in St. Paul for those that want to use Mapquest or Google Maps.
For more information, visit redbullflugtagusa.com/TwinCities2010.