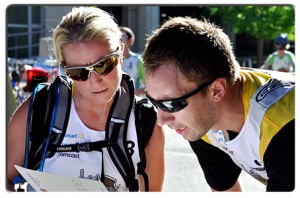 In a previous post we mentioned Minneapolis Aquatenniel, which is still happening as we speak (as I write, maybe?). The final big event of the Aquatenniel is the Salvation Army's Most Amazing Race.
The race will take place on July 24, 2010 leading the teams of two on a large-scale race around Minneapolis. This fifth annual fundraising event benefits The Salvation Army's Bed and Bread Club®, which helps alleviate hunger and homelessness in the Twin Cities. Over $170,000 has been raised since the event started in 2006.
The race is patterned after the CBS reality show The Amazing Race and features teams of two completing mental and physical challenges at popular locations throughout Minneapolis. Teams have the potential to qualify for the race in one of two ways: raising at least $2,000, or by being a top finisher at a qualifying event held the morning of the race. There is no registration fee this year. However, to be eligible to compete in the qualifying race, teams must raise a minimum of $200 by July 21.
From the starting line, the final teams will be given a clue leading them to a checkpoint somewhere in Minneapolis. They can only use Metro Transit for transportation throughout the race. Upon arriving at the various checkpoints throughout the day, they will be required to complete a task in order to receive the next clue. Tasks would be either physically or mentally challenging, and could involve tedious activities, trivial contests, or food challenges.
The first team to reach the finish line will win the grand prize of $5,000 courtesy of Wells Fargo.
If you hurry, there's still time to register and raise $200 by the 21st. Register now.
For more information on the race visit thesalarmy.org/race.