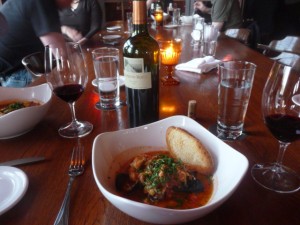 If the title of today's blog entry sounds a bit familiar, good call. Back on Day 18 we featured Cheap Date Night at the Bryant Lake Bowl. Now that Cheap Date Night is still a great option for Monday nights in Uptown, or if you want to make bowling a part of that date.
The Red Stag Supper Club is Northeast Minneapolis's answer to Cheap Date Night. Kim Hartmann is the owner of both venues and decided to take the Cheap Date Night concept to another part of the city. Its close proximity to the University of Minnesota, downtown, the Warehouse District, the Mill District and North Loop neighborhoods means a different crowd than the Uptown location of Hartmann's other Cheap Date Night.
At the Red Stag Supper Club, Cheap Date Night falls on Tuesday nights from 5 to 10pm, and offers, for a measly $32, a bottle of wine, two entrées, and a dessert. And while there's no bowling here, it might be a better option for a first date, if for that very reason.
If your travels bring you to the Red Stag Supper Club on other days or nights during the week, you should also know that they offer Sunday brunch, have separate lunch and dinner menus, a special hors d'oeuvres menu and dessert menu, as well as a menu for their Friday Fish Fry.
The Red Stag Supper Club is located at 509 1st Avenue NE in Minneapolis.
For more information visit redstagsupperclub.com or call (612) 767-7766.