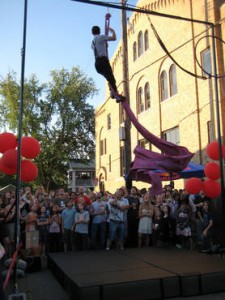 So many festivals, parties, and activities…so little time.
These precious lazy summer days bring so many fun things to do that sometimes we don't want the summer to end, right?
Well, this Sunday, July 18th is Bastille Day, and Barbette in Uptown is hosting the Bastille Day Block Party from 2 to 10pm on the street in front, at the corner of Irving and Lagoon. The event will provide you with a reason to pretend you're French and partake in the festivities, much like we do on St. Patricks day (Irish or not), and Cinco de Mayo (Latino or not). Of course the Irish are fond of their beer, our Latin American friends partake in various Tequila concoctions (or just straight Tequila), and Bastille Day will be a chance to party in a way that's a bit more refined, with French wines and French cuisine.
There will be all kinds of entertainment, from mimes, clowns and cabaret performers, to hula hoop contests and the North Star Roller Girls, who will be rolling around and mingling with all the fine folks. And Emcee Foxy Tann will be on hand to keep everyone in line.
Barbette will be serving fresh local and organic food, cold beverages, and will feature a flea market with local artists displaying and selling their art and wares.
Also on hand will be an eclectic variety of local musicians to entertain. This year's lineup includes Mayda, Eyedea & Abilities, Romantica, Red Pens, The Magnolias, Chooglin', and Foxy Tann and the Whambamthankyouma'ams.
This is a family-friendly event and is free and open to the public.
For more information visit batilledayblockparty.com.