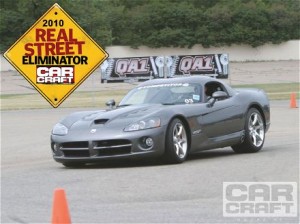 Remember the scene in Joe Dirt where David Spade's title character acquired a 1969 Plymouth GTX Convertible for pretty much nothing? That was awesome.
It's got a hemi.
This weekend you can unleash your inner motorhead at the Car Craft Summer Nationals at the Minnesota State Fairgrounds. Presented by GM Performance Division, the Car Craft Summer Nationals bring you some of the biggest, baddest, coolest, and most muscular muscle cars in the country.
Remember being in high school and wanting to burnout, do donuts and cruise without anyone telling you not to do it? Well, here not only will no one tell you that you can't–they actually encourage it.
Tickets are available in advance or at the door. Two-day and three-day passes are offered. Get your tickets online ahead of time to save some cash.
There will be over 5,000 cars entered in the show, some to look at, but in addition to parked, sparkly cars there will be other vehicles pushed to their limit during burnout competitions, loud-mouth drag races, acceleration and break tests, and a timed obstacle course. Over 45,000 spectators are anticipated to attend, so do yourself a favor and avoid Snelling Avenue. Try to park far away and take a bus to the event.
The show is Friday from 10am to 6pm, Saturday 9am to 6pm, and Sunday 9am to 3:30pm, July 16, 17, and 18.
For hotels in the area, visit your favorite booking site or we also suggest this website.
For more information about, check out the event website.