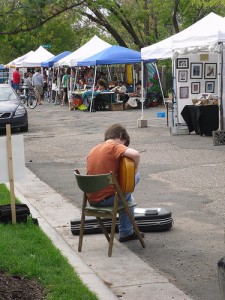 As far as open-air farmers' markets go, the proverbial new kid on the block for the Twin Cities is the Minneapolis Uptown Market.
Only in its second year, the market switched from its monthly frequency of last year to weekly this summer. Every Sunday through September 26th, from 11am to 5pm each week, you can roam and shop, check out art, crafts, and jewelry, listen to music, and even have lunch.
This year the market has expanded availability of fresh, local, and in many cases, organic produce. There is local artists, crafters, and organizations on location as well. Also in the mix each week is a variety of prepared foods in case you skipped lunch to get there early. You may also be able to catch live music, either planned or impromptu, from area musicians to enhance your shopping experience.
The Minneapolis Uptown Market is located on a four-block stretch of 29th Street, between Lyndale and Dupont. Easily accessible by public transit and surrounded by plenty of parking, including a couple of pay lots, but also free shaded parking in nearby residential blocks, the market is a cinch for Greenway cyclists. If you're biking there via the Greenway bike path, just take the Bryant Ave. exit.
For more information or to register as a vendor visit www.uptownmarket.org.