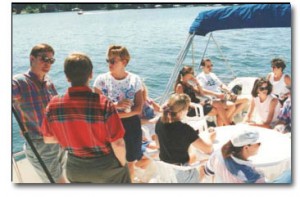 Summer is here, so load up your iPod with your favorite "really smooth" jams from Kenny Loggins, Christopher Cross, Michael McDonald, Hall & Oates, Pablo Cruise, Toto, Steely Dan et al. and book a cruise on beautiful Lake Minnetoka.
If you provide the yacht rock soundtrack, Excelsior Bay Charters can provide the yacht.
Excelsior Bay Charters has two yachts: the 51-foot Linda Lee, with its "grill while cruising" capabilities, and the 67-foot luxury yacht, Summer Wind. The former has a capacity of 50 guests, while the maximum for the latter is 80 guests. Both can be had for two, three or four-hour cruises and have varying per-person prices depending upon the number of guests and how long you want to cruise. See the detailed pricing for each yacht to figure out costs per person.
Both have rooftop party spaces, sun decks, dining spaces, bars and climate-controlled salons for your comfort, but different designs and interior finishes.
Each offers similar menu and bar choices and are equipped for entertainment with wireless digital sound systems. Contact Excelsior Bay Charters for rules and guidelines regarding entertainment though, as cruises do go near private residences, and noise can be an issue. See the FAQ's for more information.
Depending on what day and time and how many guests you have, this could be a fun and not-too-expensive option for summer fun, for an office party, organization, or group activity. If you fill to capacity, the cost should never go above $20 per person or so, even with a four-hour party.
For more information, see Excelsior Bay Charters online, contact (952) 474-1171 or infoebc@mchsi.com.