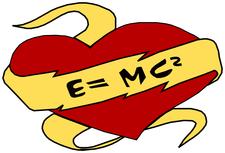 I have some single friends who are frightened, frustrated and confused by the world of dating and looking for love. There's Raj, a sensitive astrophysicist who is literally speechless in the presence of women. And Howard is a diminutive engineer who comes on stronger than the rocket fuel that propels his inventions into space. Neurobiologist Amy dates only once a year to keep her mother from nagging her to death. Bernadette is cute and sweet, but too busy working as a waitress and finishing up her Ph.D. in microbiology to find Mr. Right. Leonard, an experimental physicist, has the propensity to find love, but his inept friends tend to hold him back. Lastly, Sheldon, a theoretical physicist and certifiable genius, but not crazy, is singularly devoted to science, the only lady he needs.
It's a shame they don't have somewhere they can meet people who share the same interests and intellect. People who can discuss particle physics and Doctor Who in the same breath. A place where interaction is facilitated in an organized and structured way so they're not left to approach potential mates on their own. Otherwise they'll be doomed to spending their evenings ordering in and playing Klingon Boggle and three-dimensional chess.
If only they lived in the Twin Cities, they could fulfill their "Nerd Year's Resolutions" and attend a singles mixer at 508 Bar in Minneapolis on Saturday, January 21 from 4:00 to 6:00pm, sponsored by Nerds at Heart.
They could loosen up with a complimentary cocktail, flirt with other unattached brainiacs over board games, trivia and a themed icebreaker. And score prizes like Isaac Newton action figures, Spider-Man wristwatches, Pride and Prejudice paper dolls, and zombie finger puppets.
If you want to mingle with other nerderati at a friendly, inclusive and low pressure party, register in advance online for $25. Sign-in begins at 3:30, and activities get underway no later than 4:15. And if you don't meet anyone interesting, you can still make it home for The Big Bang Theory on TBS at 8:00.
508 Bar and Restaurant
508 1st Avenue N
Minneapolis, MN 55403
For more information, e-mail twincities.info@nerdsatheart.com or call (855) NERD-LOVE. You can also find Nerds at Heart on Facebook.
Nerds at Heart thinks brains matter as much as beauty and that "nerd" is the new sexy! Nerds at Heart makes matches for brainy singles. Mingle and find love at our Dating for Nerds parties and Nerderati mixers.