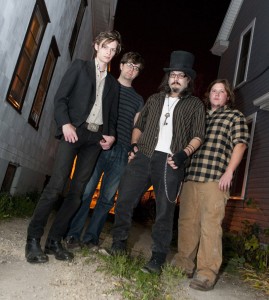 Summer is the season for lots of live music, outdoor concerts and festivals. Our last few posts have been heavy on the live music. We'll diversify our content soon, but right now, there's lots of live music to talk about.
Speaking of live music, this Saturday June 11th, head over to Nick & Eddie, Loring Park's new music incubator, for Cobra Fest starting at 2pm and going all day and well into the night. It's a big live music party in the alley next to the restaurant featuring 14 live bands on three stages. There will be three bars full of bartenders slinging drinks, and plenty to eat, as Nick & Eddie will have their full menu available.
Cobra Fest will be hosted by Barb Abney from 89.3 The Current, and will be a day full of new bands and new music. Local bands such as Phantom Tails (pictured), Mystery Palace, and Red Daughters will be performing, as well as the performance debut of brand new local electro pop band Sexcat.
There is a $5 cover for the day and the event is 18+. There's lots of parking ramps nearby if you're not lucky enough to get a spot in front, and a pay lot next to Joe's Garage.
See the full lineup and RSVP on the Facebook Event Page.
Nick & Eddie Restaurant
1612 Harmon Place
Minneapolis, MN 55403-1916
(612) 486-5800
www.nickandeddie.com