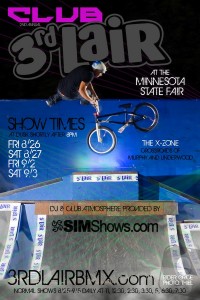 Did you know that the Twin Cities has some of the sickest BMX freestylers in the country?
The MN State Fair is known for its rides, competitions in agriculture, culinary arts, and sciences, and the food, most of which is impaled on a stick. BMX isn't normally synonymous with the State Fair, but check out Club 3rd Lair to see riders get some serious air. Its following is picking up steam and drawing more people each year.
There are 7 BMX stunt shows at Club 3rd Lair each day of the Fair. Each day these shows draw crowds easily into four figures. And with superstar riders as young as 9 years old, the stunt shows promise to amaze and astound.
Catch these young dudes shredding daily for 20 minutes at 11am, 12:30pm, 2:30, 3:30, 5:00, 6:30, and 7:30pm, followed by an autograph sesh, starting today, Thursday, 8/25 through Monday, 9/5.
Stick around after the 7:30 shows each night of the weekends for exclusive Club 3rd Lair Nightshows with DJ's, fog machines, strobe lights, frickin' lasers, glow sticks and lots more. Spinning the wax will be Sound in Motion featuring Minneapolis' hottest local DJ's including Jack Trash, Cities of Gold, and Guest MC Obliquity. Each 'Club Enhanced' night show starts at dusk (shortly after 8pm) on Fri 8/26 & Sat 8/27 and Fri 9/2 & Sat 9/3.
Club 3rd Lair happens in the northwest "X-Zone" corner of fairgrounds at the crossroads of Murphy & Underwood.
RSVP on the Facebook event page.
Also check out the 3rd Lair BMX website.
Follow @3rdlair on Twitter.
Minnesota State Fair
1265 Snelling Ave
St Paul, Minnesota 55108
(651) 288-4400