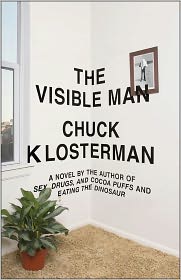 Fans of Chuck Klosterman, author of several popular tomes including Fargo Rock City, Killing Yourself to Live, and Sex, Drugs, and Cocoa Puffs, will be excited to hear that he will be making an appearance at Magers & Quinn (located in Uptown Minneapolis) on Tuesday, November 8th to promote his latest novel, The Visible Man.
Klosterman will be reading an excerpt from (the ironically titled?) The Visible Man, which follows therapist Victoria Vick and her increasingly bizarre interactions with a client who claims he possesses a cloaking technology, stolen from a scrapped government project, that allows him to become nearly invisible. Using this technology he is able to observe others, preferably when they are alone, without them being aware of his presence. His questionable tales entrance Victoria, who becomes obsessed with her patient and his disturbing revelations. As Victoria's obsession consumes her, it threatens her career, her marriage, and even her own identity.
Thematically, the book's description declares that "The Visible Man touches on all of Chuck Klosterman's favorite themes: the consequence of culture, the influence of media, the complexity of voyeurism, and the existential contradiction of normalcy. Is this comedy, criticism, or horror? " This strange, fictional narrative is said to leave readers pondering its philosophical underpinnings and has received stellar reviews from fans and critics alike.
Following Klosterman's reading, weekday morning co-host for the The Current (89.3FM), Steve Seel, will lead a post-reading discussion of the novel. Join Klosterman and Seel on Tuesday, November 8th for what will assuredly be a night filled with riveting conversation.