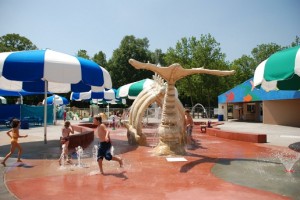 Looking for a place to cool off this summer? Located in St. Paul, the Highland Park Aquatic Center offers a great place to chill out this summer, whether you are a kid or a kid at heart.
The Highland Park Aquatic Center is an outdoor fun extravaganza, with a 50 meter, 8 lane pool, children's activity pool-with toddler slides and basket ball hoops, whale bone splash pad, climbing wall, diving boards, drop slides and a new 200 foot waterslide. The facility just finished renovations on the concession area and locker rooms, which now offer family changing rooms. The pool uses a moss conditioning treatment, which uses 50% less chlorine in the water.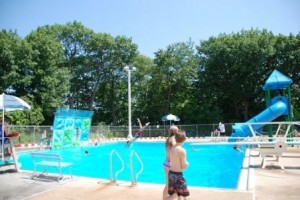 Admittance to the park is $4.50 for youth under 48", $5.00 for youth under 16 and $6.50 for adults. The family daily pass is $16 and includes up to 5 family members. You can also purchase seasonal memberships or swim cards with 10 passes. When the temperature reaches 100 degrees admittance to the facility is free. Family Fun & Fitness Fridays are on July 15 and August 19 and admittance is $2 per person.
For more information visit:
http://www.stpaul.gov/index.aspx?NID=2665
Highland Aquatic Center
1840 Edgcumbe Rd
St Paul, MN 55116-2406
(651) 695-3773
Alice Seuffert is a St. Paul Mom, food blogger and the Kitchen Star on Twin Cities Live. You can access her blog at http://diningwithalice.blogspot.com and follow her on Facebook: http://www.facebook.com/diningwithalice or Twitter: @diningwithalice or @aliceseuffert