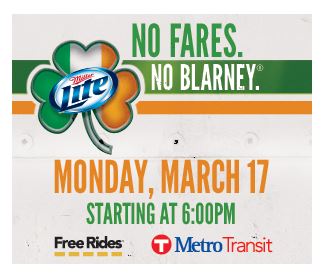 Whether you are celebrating St. Patrick's Day in St. Paul or Minneapolis this year, Miller Lite and Metro Transit have you covered.  Miller Lite Free Rides® program wants everyone to celebrate safely so once again residents and visitors to the Twin Cities can ride any Metro Transit bus, light-rail, or Northstar commuter train from 6pm to the end of regular service on March 17th for FREE.
So, please drink like the Irish but get home responsibly by checking out this free program!
CELEBRATE SAFELY ON ST. PATRICK'S DAY WITH MILLER LITE FREE RIDES®
 Miller Lite, Metro Transit, J.J. Taylor Distributing Team Up to Provide Free Bus and Train Service in the Twin Cities
MINNEAPOLIS/ST. PAUL (March 4, 2014) – The Original Lite Beer is once again celebrating St. Patrick's Day in the Twin Cities by providing residents and visitors with the popular Miller Lite Free Rides® program.  In partnership with Metro Transit and J.J. Taylor Distributing, Miller Lite will provide Free Rides Monday, March 17 on all Metro Transit bus and light-rail routes, as well as the Northstar commuter train beginning at 6 p.m. until the end of regular service. 
 "We believe that with great beer comes great responsibility, and that begins with planning ahead for a safe ride home," said Diane Wagner, MillerCoors responsibility commerce manager. "We're proud to provide Miller Lite Free Rides in the Twin Cities for the 17th year, and we encourage everyone out celebrating to take advantage of this free and convenient program."
 "We're pleased to team up with MillerCoors again this St. Patrick's Day to offer a popular, safe travel choice," said Metro Transit General Manager Brian Lamb. "This enduring public-private partnership has won praise from riders and public safety organizations alike."
 The Miller Lite Free Rides® program is celebrating its 26th anniversary this year. Since the program's inception, Miller Lite has provided more than 4 million 'Free Rides' in a total of 16 communities across the country, and has gained the involvement and support of local law enforcement, public safety agencies, and other community and government organizations nationwide.
 For detailed route and schedule information, call 1-800-FREE-RIDES (1-800-373-3743), text "METRO" to 90464 or visit www.MillerLiteFreeRides.com.