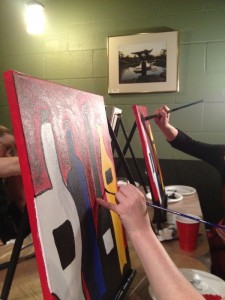 Do you ever look at your walls and imagine great works of art hanging there?  Maybe you've even been to a few galleries, but walked away empty handed.
What if YOU could paint something fantastic? Picture your dinner party guests "Ooo-ing" and "Ahh-ing"  over a painting YOU created!  It could happen … what, you don't believe me?
Well its true, even if you don't know anything about art you can still own something wonderful made from your own two hands, AND have fun creating it!
Canvas and Cocktails Collide, provides a relaxed environment with step-by-step instructions on how to paint a featured painting!    There is also a wine bar/café to purchase beverages to sip while working on your masterpiece.
All you need is an opening in your calendar,  all the supplies (apron, canvas, paints, easel and brushes) are provided.   You can register yourself and a few friends,  paint the town red with a date or fly solo and make new friends!
The next scheduled painting date:
Thursday, April 26th
6:30pm-8:30pm
Rise & Wine
12501 Nicollet Ave
Burnsville, MN 55337 (map)
Cost: $35.00
Please check out Canvas and Cocktails full Schedule to find other dates.
Happy Painting!
More information at www.canvasandcocktailscollide.com
Like Canvas and Cocktails on Facebook.