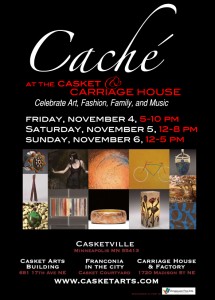 After the last piece of candy has been doled out to the little spooks who haunt your neighborhood, you might be thinking that you have a little time to relax before the real hustle and bustle of the holiday season is underway. You sit back on the couch take a deep breath and just as you are about to exhale … your eyes zone in on the large bare wall in your living room. Suddenly the burden of knowing you will be having a house full of guests in just a few weeks has got you panicking. Bare walls will not go unnoticed in your family … but what to do?! Never fear, Caché at the Casket is Here!!
This fabulous FREE 3 day event ( November 4th, 5th & 6th) is when the 140+ hard working artists located at the Northeast Minneapolis Arts District are willing to open the doors to the public and allow you to see the spaces their art calls home. Not only will there be tours, live music, beverages and food, but you can actually see some works in the making and of course purchase something amazing for the empty space in your home (or the vacant spot on your wrist where a one-of-a-kind bracelet would look mighty nice *hint-hint).
So put down the Sunday ads, finding that perfect piece (or pieces) that will make your spirits bright and be the talk of your holiday guests isn't going to be found at a retail store, but rather at Caché at the Casket!
When:
Friday, Nov. 4th, 5-10pm
Saturday, Nov. 5th 12-8pm
Sunday, Nov. 6th 12-5pm.
Where: Casket Arts Community (The block of three buildings and the Franconia Sculpture Park bounded by Madison St NE, 17th St NE and Jefferson St, NE)
Address: 681 17th Ave NE and 1720 Madison Street NE, Minneapolis, 55413
For whom: Anyone, bring the family and support local (and guest) artists!
http://www.casketartscache.com
Casket Arts Community
681 17th Ave NE
Minneapolis, MN 55413
(612) 788-5551