Some of the coolest stuff comes straight from the streets – cool slang, urban street fashions, hip hop, and many forms of modern dance such as breakdancing and B-boy style.
One other cool thing that came straight from the streets locally is a group called Buckets and Tap Shoes, a musical rhythm group based on bucket drumming and urban dance. Mix in a drummer playing a traditional kit, a guitarist, bass player and some sweet tap dance and modern moves and you've got an entertainment dynamo. Right here in your city.
Founded in 2004 by brothers Rick and Andy Ausland, Minneapolis-based Buckets and Tap Shoes is an explosive, high-energy rhythmic journey.
The multi-talented performers have astounded world-wide audiences with their dancing, and create music with plastic and metal buckets, tap shoes, guitars, drums, bass and keys.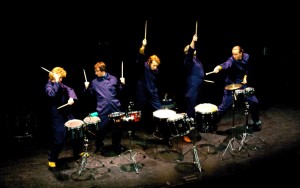 Cowles Center for Dance & The Performing Arts is hosting three nights of shows by this dazzling group of locals in their Goodale Theater.
Performance schedule:
Friday December 9, 8pm
Saturday December 10, 8pm
Sunday December 11, 7pm
Tickets can purchased online through the Cowles Center website for $24. There are still tickets available for all three evenings.
For more information about Buckets and Tap Shoes, visit www.bucketsandtapshoes.com.
Like Buckets and Tap Shoes on Facebook.
Follow @BucketsTapShoes on Twitter.
Cowles Center for Dance & The Performing Arts
528 Hennepin Ave
Minneapolis, MN 55403
(612) 206-3636
http://thecowlescenter.org