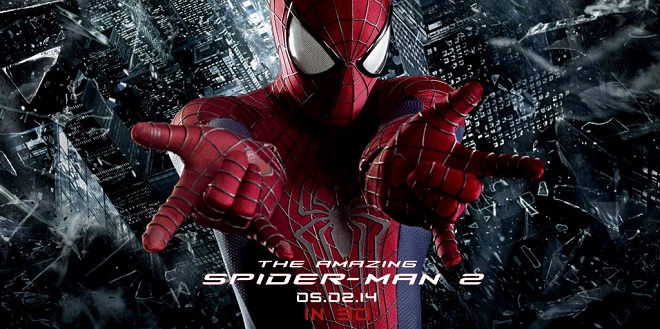 The Amazing Spider-Man 2 screening contest is here! We have 3 Family 4-Packs to giveaway between our 3 websites.
Our screening of THE AMAZING SPIDER-MAN 2 is April 30, 2014 at the Showplace ICON in Saint Louis Park.
So if you are interested in winning, here is what you need to do.
1. LIKE at least one if not all three of our amazing Facebook pages!
      365 Twin Cities https://www.facebook.com/365TwinCitiesMN
      365 Twin Cities Family https://www.facebook.com/365TwinCitiesFamily
     Twin Cities Moviegoers https://www.facebook.com/TwinCitiesMoviegoers
2. Email a picture of you doing SOMETHING AMAZING in the Twin Cities. Be sure the numbers 365 are in the picture somewhere!
3. Tell us what the picture is of, about, for, and why it is you being AMAZING in the Twin Cities!
All submissions must be emailed to 365TwinCities@gmail.com before the end of day 4/26/14. We will then post them on our blog/facebook page for people to vote on and see which amazing picture/story is deserving of the right to get the Family 4-Pack of tickets! Winners will be chosen on Tuesday April 29, 2014 at 1:00PM
THE AMAZING SPIDER-MAN 2 has been rated PG-13
SYNOPSIS
We've always known that Spider-Man's most important conflict has been within himself: the struggle between the ordinary obligations of Peter Parker and the extraordinary responsibilities of Spider-Man. But in The Amazing Spider-Man 2, Peter Parker finds that his greatest battle is about to begin.
It's great to be Spider-Man (Andrew Garfield). For Peter Parker, there's no feeling quite like swinging between skyscrapers, embracing being the hero, and spending time with Gwen (Emma Stone). But being Spider-Man comes at a price: only Spider-Man can protect his fellow New Yorkers from the formidable villains that threaten the city. With the emergence of Electro (Jamie Foxx), Peter must confront a foe far more powerful than he. And as his old friend, Harry Osborn (Dane DeHaan), returns, Peter comes to realize that all of his enemies have one thing in common: Oscorp.
http://www.theamazingspiderman.com/