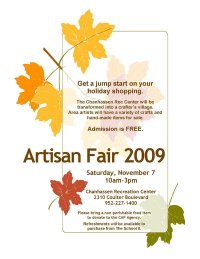 Picture yourself on December 12. You've just completed one round of holiday parties. You completely forgot the office gift exchange is this week. Your husband got himself wrapped up in the office Secret Santa hoopla and forgot to shop. You need a little something for your babysitters, your hairdresser, teachers, the neighbor who watches your pets while you're away, your boss, something for an old friend who surprised you with that nice basket of gourmet cookies. And you have sports practices, late night meetings, business travel, work happy hours, school concerts, and holiday pageants to contend with.
How wonderful would it be if you'd had everything taken care of back in November, when you weren't under so much pressure, when you could have put some thought into a unique and creative gift, made by a local artist, instead of something mass-produced from your local drugstore chain or department store?
Don't do the last minute scramble! Instead lessen your end-of-the-year stress, and plan on attending the Artisan Fair at Chanhassen Rec Center on Saturday, November 5, where you will find original and creative gifts like photography, homemade cards, jewelry, scarves, woodwork, artwork, ornaments, knitwear, quilts, and more.
Saturday, November 5, 10am to 2pm
Chanhassen Recreation Center
2310 Coulter Boulevard
Chanhassen, MN
(952) 227-1400
Admission is free, but a non-perishable food item to be donated to the CAP Agency is encouraged.
Visit the Artisan Fair website for more information.