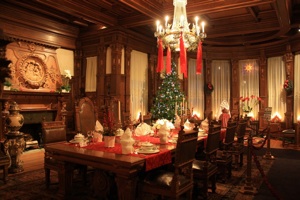 This year the American Swedish Institute's annual Christmas Fair (or julmarknad) will be extra special as it also celebrates its reopening to the public. After having closed its doors over the summer, the Turnblad Mansion is ready to reopen in time for the holidays with newly renovated and remodeled spaces. On Saturday, November 19th from 10:00 am to 5:00 pm, the American Swedish Institute invites you to join in the festivities and view its updated look.
Leisurely stroll through the historic Turnblad Mansion, enjoy festive holiday music and dance performances, and explore the beautifully decorated Nordic Christmas rooms. Each year, the American Swedish Institute showcases traditional Christmas decor from Nordic countries – including Sweden, Norway, Denmark, Iceland and Finland – to delight its visitors. Many of the beautiful decorations featured in the Nordic Christmas exhibits can be found for sale in the redesigned Museum Shop, which make thoughtful and unique Christmas gifts.
Bringing the family? Head on up to the third floor for arts and crafts, go fishing for treats at the fish pond, or listen as stories are shared about tomte (a whimsical and mischievous little elf).
Curious about the renovations? Venture down into the Lower Level to chat with those who made the updates possible while touring the new Library/Archives storage space.
If all of your explorations leave you feeling a bit famished, chow down on open-faced sandwiches from Common Roots Catering, perk up with a cup of hot coffee, and nibble on fresh baked goods. Visitors can also enjoy a Swedish-style hot dog stand out on the front lawn while basking in the warmth from a bonfire pit. And don't forget to snag a snack for later! Check out the Bake Sale (being held in one of the new classrooms) and all of the tasty offerings available in the Museum Shop.
Click to view the Schedule of Events for this year's Christmas Fair at the American Swedish Institute for more information on specific performance times.
The Christmas Fair is included with museum admission. Admission is:
free for ASI members,
$6 for adults,
$5 for ages 62 and above,
$4 for ages 6-18 and full-time students with ID.
Children under six are admitted free when accompanied by an adult.
*All proceeds from the Christmas Fair benefit the American Swedish Institute.
American Swedish Institute
2600 Park Avenue
Minneapolis, MN 55407
(612) 871-4907
For more information, visit the American Swedish Institute online.
Like the American Swedish Institute on Facebook.
Follow @AmSwedInstitute on Twitter.