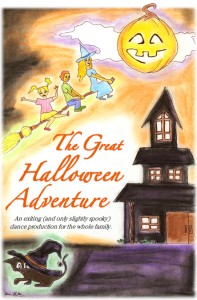 Ballet probably isn't the first thing that comes to mind when thinking about ways to make the most of Halloween. Unless you are training at the Academy of Russian Ballet, that is.
Watch these classically schooled dancers in their light-hearted, family-friendly, and slightly spooky Great Halloween Adventure, an original ballet that follows a brother and sister on a great quest to rescue their stolen jack-o-lantern. Beware of the ghouls that follow a witch, a bride, a cat, and a cow as they battle to save the pumpkin from the goblins who want to spoil the Halloween fun.
Details – when, where, how, how much, etc. – are as follows:
Sunday, October 30, 1pm
Eden Prairie High School Auditorium
17185 Valley View Road
Online ticket prices:
Adults – $18
Seniors – $15
Children – $12
Tickets are also available at the door (cash or check only) on the day of the performance. Add $3 per ticket. There is a 15% discount available for groups of 15 or more.
Order tickets online or call (612) 636-3167 for group sales or accessible seating.
The Academy of Russian Ballet is the first Russian Dance School in Minnesota committed to educating children in the best traditions of Russian Ballet Mastership. The Academy's comprehensive curriculum instills incomparable technique while striving for a greater sense of artistry, clarity, grace, athleticism, speed, and musicality. The Academy of Russian Ballet creates ballet performance opportunities in Minnesota, including The Nutcracker, Halloween Adventure, and Peter and the Wolf.
For more information, visit their website academyofrussianballet.com.