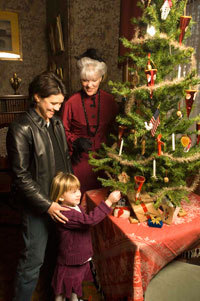 Experience the sights, sounds, and tastes of a Victorian Christmas at one of the nation's best preserved Victorian-era homes. The Minnesota Historical Society's Ramsey House in St. Paul offers a glimpse into family and servant life in the 1870s.
This holiday season, take a step back in time to call on Anna Ramsey, wife of the first territorial governor. Experience the sights, sounds and tastes of the 1875 Christmas season: enjoy homemade cookies fresh from the wood burning stove, listen to popular holiday music of the era played on the family's Steinway piano and view original family ornaments and Christmas gifts. Discover how the Ramsey family and their friends, neighbors and servants prepared for and celebrated the Christmas season. Visit the Carriage House gift store, stocked with replica Victorian ornaments and other Holiday gift items.
Dates & times:
Wednesdays – Saturdays, 10am to 3pm
Sundays – noon to 3pm
Fees:
Adults – $11
Seniors and Students – $9
Youth, ages 6-17 – $7
MHS Members receive a $3 discount
Reservations are recommended, please call (651) 296-8760.
Contact: (651) 296-8760 or ramseyhouse@mnhs.org
For more information on the Ramsey House, visit www.mnhs.org/places/sites/arh.
Like Minnesota Historical Society on Facebook.
Alexander Ramsey House
265 S. Exchange St.
St. Paul, MN 55102
www.mnhs.org/places/sites/arh