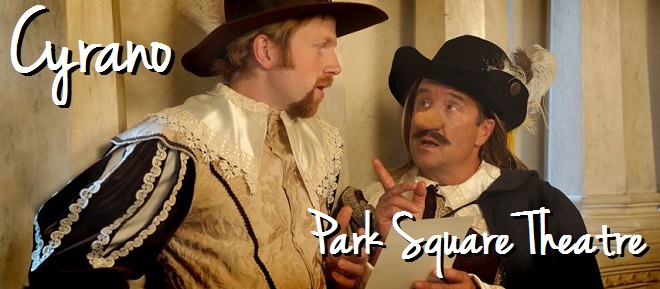 SATURDAY AND ONGOING
CYRANO
Park Square Theatre, St. Paul * Various Days and Times March 14th – April 6th * Various $
An unabashed romance set in the 1640s, with a swashbuckling hero, a case of hidden identity, and a passionate love story. Flamboyant Cyrano is a skilled swordsman and a gifted poet, yet his unusually large nose prevents him from declaring his love for the beautiful and brainy Roxane, who is enamored of handsome Christian. Will Roxane fall for Christian's dashing looks or Cyrano's daring poetry? "After all, a kiss – what is it? A wordless, whispered lover's vow; a promise made and fulfilled at once … "
Bloomington Theatre and  Art Center * Various Days and Times Feb. 28th – March 23rd * Adult: $22, Senior: $20, 25 & Under: $17
Court-appointed psychiatrist Dr. Martha Livingstone is summoned to a convent and charged with assessing the sanity of a young novice nun accused of murdering her newborn. The Mother Superior determinedly keeps young Agnes from the doctor, arousing suspicions further. The doctor's questions force all three women to re-examine the meaning of faith and the power of love leading to a dramatic, compelling climax.
Guthrie Theatre * February 13 – March 23, 2014 on the McGuire Proscenium Stage * Various $
Guthrie audiences will remember Kneehigh for its wildly popular and astonishingly creative production of Brief Encounter. This season marks the U.K.-based company's triumphant return with Tristan & Yseult, the rapturously acclaimed play that first put the company on the map as masters of invention. This innovative tale finds King Mark of Cornwall at war – ruling with his head, not his heart. But he hasn't counted on falling head over heels for his enemy's sister Yseult, or on the arrival of the enigmatic Tristan. What follows is a love triangle of epic proportions – complete with forbidden desires, broken hearts and tender truths. Kneehigh's thrill-ride of a production blends comedy, live music and jaw-dropping theatricality for a night of theater as hilarious as it is moving. In a five-star review, the U.K.'s Guardian raved, "If this show doesn't make you fall in love with theatre, there's no potion on Earth that can help you."
Guthrie Theatre * March 08 – April 20, 2014 on the Wurtele Thrust Stage * Various $
For the first time on the mainstage in nearly two decades, the Guthrie presents a bold new Othello for our audiences to feast upon. This classic Shakespeare tragedy is an astonishing epic of sweeping passions and murderous ambition – a thrilling meditation on the power of love and the destructiveness of suspicion, all triggered by one of literature's most seductively manipulative villains: Iago. Directed by Tony and Drama Desk award nominee and Obie Award winner Marion McClinton, best-known for his Broadway and regional productions of August Wilson's plays, this devastating story examines issues of cultural diversity, race and betrayal in what promises to be a profound night of theater you won't soon forget.
The Soap Factory * Various Days & Times March 8th – April 20th * Various $
Art(ists) On the Verge is an intensive, year-long, mentor-based fellowship program co-directed by Steve Dietz and Piotr Szyhalski with mentors Ta-Coumba Aiken, Christine Baeumler, Chris Larson, Abinadi Meza, Sarah Peters, and Diane Willow. Art(ists) On the Verge is a partnership with The Soap Factory. A publication of the exhibition with an essay by Susannah Schouweiler will accompany the exhibition. One of the fundamental concepts defining the mission of the Art(ists) On the Verge Fellowship is the commitment to emerging artists working experimentally at the intersection of art, technology, and digital culture, whose practice often falls outside of and in between the traditional notions of media or disciplines. The Art(ists) On the Verge fellows are no exception. Their work at The Soap Factory engages with a broad spectrum of ideas: the history of slavery, intelligent flora, the unification of science and spirituality, machine acuity, and the postal service.
Hennepin Theatre Trust at the Orpheum Theatre * Various times March 14th – March 16th * Various $
Peter and the Starcatcher, the most magical evening of madcap fun is now on tour! Hailed by The New York Times as "the most exhilarating storytelling on Broadway in decades," this musical play takes a hilarious romp through the Neverland you never knew. The winner of five Tony Awards®, this swashbuckling prequel to Peter Pan will have you hooked from the moment you let your imagination take flight. The most Tony-Award® nominated new American play, Entertainment Weekly calls Peter and the Starcatcher, "an absurdly funny fantastical journey."
Northrop Dance Series at Walker Art Center * Last day Saturday, March 15th * Various $
Brown's uncontested legacy as a maverick, a renegade, and a pioneer of postmodern dance is celebrated with this farewell tour of works made for the stage, seen one last time in their original context. This program includes I'm going to toss my arms—if you catch them they're yours, the final work of Brown's career, which reflects her style with organic, transient movement and a minimalist set of industrial fans. Thirty years old this year, the beloved Set and Reset's relaxed, playful choreography is accented with superb black-and-white-themed design and costumes by Robert Rauschenberg. Never seen before in Minneapolis, If you couldn't see me is a seductively beautiful female solo. A calmly physical piece, Astral Convertible is the final piece in Brown's athletic Valiant Series.
Ames Center, Burnsville PAC * Saturday March 15th * Various $
Since the early 80's, 1964…The Tribute has been thrilling audiences all over the globe with what Rolling Stone Magazine has called the best Beatles tribute on earth.  1964…The Tribute takes their audiences on a musical journey to an era in rock history that will live in all of our hearts forever.  They are hailed by critics and fans alike as the most authentic and endearing Beatles tribute in the world.  Choosing songs from pre-Sgt. Pepper era, 1964 astonishingly recreates an early 60's live Beatles concert, with period instruments, clothing, hairstyles, and onstage banter.
 HOPPER DRAWING: A PAINTER"S PROCESS
Walker Art Center * March 15th and 16th * Members
Walker members enjoy special access to Hopper Drawing: A Painter's Process before the galleries open to the public. This major exhibition, which focuses on the interplay between Edward Hopper's greatest oil paintings and his preparatory drawings, features more than 20 of his landmark paintings alongside sketches and studies. Stop by and join other members to explore the artist's indelible American images and the motifs—the street, the office, the bedroom, the open road—that he would return to throughout his prolific career.
For family fun events this weekend be sure to check out 365 Family Things To Do in the Twin Cities : 13 Events Happening Around the Twin Cities This Weekend March 14th – 16th, 2014