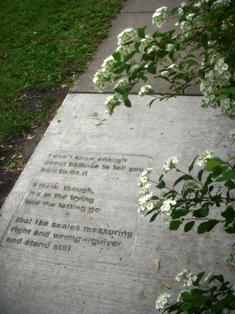 Roses are red.
Violets are blue.
I wrote this blog post,
especially for YOU.
Pretty good, eh? Well, perhaps you can do better. Do you enjoy writing prose, or a little free verse? Does your lingo flow like a haiku?
Or maybe you're a poet and didn't know it (sorry, I couldn't resist).
If you are a resident of St. Paul, and have a knack for writing poetry then put that pen to paper!
The 5th annual St. Paul Sidewalk Poetry Competition has begun and is accepting entries now!
5 winners will be chosen to have their poems embedded into the cement , no sidewalk chalk, this is the real deal. In addition to having your poem (literally) become a part of St. Paul, each winner will also receive $150.00.
Each St. Paul resident can submit up-to two original poems. All entries must be received by midnight on April, 13th.
Once you have read all of the guidelines and are good to go, submissions can be sent here.
On your marks, get set … WRITE!