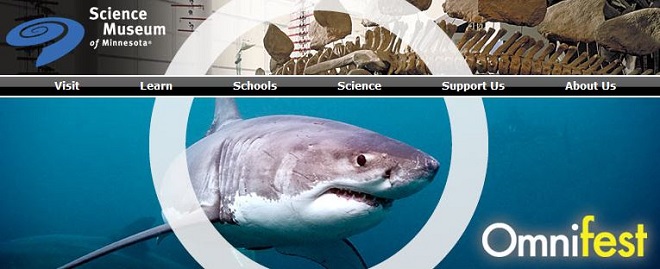 FRIDAY AND ONGOING
Minnesota Science Museum * Various Days and Times * $8 adults, $7 children and seniors, 1 free per day for members
This year sees the Omnifest opens with Great White Shark, Blue Planet, Ring of Fire, Stomp's World Beat and To the Limit. Come for the movies, but stay for the interesting exhibits at the Science Museum. Omnifest open through February 28th.
CHECKPOINT MINNESOTA CONTEST
Explore Minnesota Tourism * 10 Sites around the state * FREE * Prizes
If you have an adventuring bone in your body, you should check out the Checkpoint Minnesota Contest being sponsored by Explore Minnesota Tourism.  "We want folks to go to as many checkpoints as they can throughout the state," says Alyssa Ebel with Explore Minnesota Tourism.  There is $40,000 worth of prizes available, including $1,000 gift packs for the first four people to hit all 10 locations. Simply register on the CheckPointMN.com website and post a picture.  Every check in is eligible for a prize.  There are three check points right in the Twin Cities: including the Midtown Greenway bike path in Minneapolis, the Hon Rose Ice Oval in Roseville and the Hyland Cross Country ski trail in Bloomington.
Mall of America, Nickelodeon Universe * Mon – Thurs 7p and 9:30p, Fri – Sat 7p and 10p, Sun 7p, FREE
For the first time, MOA guests will be brought together daily for an experience that will take visitors on an emotional journey through music and lights.  Universe of Light will underscore the unexpected and surprising characteristics of MOA, combines with the fun, playful, nature of Nickelodeon Universe.  The nine-minute interactive light show will be an ongoing attraction for mall visitors. Lights, music and smoke effects will transform the air space into a Technicolor dream that is sure to excite and engage.
BARBIE: THE DREAMHOUSE EXPERIENCE
Mall of America, Southeast Corner of Level 3 * Mon – Thurs Noon to 8p, Fri – Sat 10a to 10p, Sun 10a to 7p, Various prices
Featuring the world's most famous fashion icon, this exhibition brings the iconic Barbie Dreamhouse to life for Barbie fans of all ages! Focusing on fun interactivity, the exhibition is a one-of-a-kind experience allowing visitors to become a living doll in the Barbie Dreamhouse! Become a part of the fabulous Barbie lifestyle and discover each room of her amazing Malibu Dreamhouse.  Dress up in the Barbie dream closet, be a star in the Barbie fashion show, virtually bake in the Barbie kitchen and more.
MN SPORTSMEN'S BOAT, CAMPING & VACATION SHOW
St. Paul Rivercenter * Fri.: Noon – 9p, Sat.: 10a – 9p, Sun.: 10a – 5p * Adults $9, Children 6-12 $2.50, 5 & under FREE
It's a boat show! It's a camping show! It's an outdoor equipment show! It's a travel show! It's a family fun show! On Saturday and Sunday Meet Ron Schara & Raven for Kid's Fishing School, free prizes for kids will be given out.  There will also be a Live Trout Pond where you can try to a hook a trout.
THE SCHOOL FOR LIES
Park Square Theatre, St. Paul * Various Days and Times through February 2nd
Rambunctious, sexy and snide…with a script that cleverly rhymes! Why would that saucy minx Celimene, surrounded by rich adoring suitors, fall for oh-so-serious Frank? And what could he possibly see in society's leading party girl? Their battle of wits turns from hilarious tug-of-war into true love story. Tony Award-nominated David Ives fills his deliciously off-color romantic spoof with anonymous love letters, false proposals, hidden identities and characters you can't help rooting for.
SIX DEGREES OF SEPARATION
Theatre in the Round * Various Days and Times through February 2nd  
Inspired by a true story, this play follows the trail of a young black con man who charms his way into the lives of a wealthy New York couple. He first appears on their doorstep wounded, saying he's just been mugged in Central Park, and introduces himself as a friend of their children at Harvard — and the son of movie star Sidney Poitier. Intelligent, funny, at times disturbing, this comedy-drama is a compelling evening of theatre and was named by the New York Drama Critics' Circle as Best New Play of the Year.
MN Historical Society, Alexander Ramsey House * 7pm today January 10
Secrets of Victorian life emerge from the shadows in this adult evening program series. Monthly programs explore hidden aspects of Victorian history through letters, journals, music, theatrical presentations and parlor games. From medical practices and political controversies, to superstitious beliefs and romantic encounters, discover why Victorian society was not what it appeared to be. Programs are offered the second Friday of the month.
The St. Paul Chamber Orchestra * Wooddale Church, Eden Prairie * 8pm * Tickets $12-42
The St. Paul Chamber Orchestra * Ordway Center for Performing Arts, St. Paul * 8pm * Tickets $12-42
The St. Paul Chamber Orchestra * Tedd Mann Concert Hall, Minneapolis Cedar / Riverside * 2pm * Tickets $12-42
On this program, Peteris Vasks' Vox amoris will be performed by renowned Finnish violinist Pekka Kuusisto, "whose rare gift is to become rather than perform the music he plays" (The Guardian). Vox amoris ("Voice of love") is a powerfully evocative love story, told through the expressive voices of the solo violin and orchestra. The program opens with a work by one of Kuusisto's countrymen, Finnish guitarist and composer Kalle Kalima, and closes with Haydn's final symphony.
MINNEAPOLIS TATTOO ARTS CONVENTION
Hyatt Regency Hotel Minneapolis * Friday 2p – 12a, Saturday 11a – 12a, Sunday 11a – 8p, $20 for day, $40 for weekend
Special guests include Jime Litwalk from Ink Master (Season 3 Runner Up), Amy Nicoletto from LA Ink, Alli Baker from Best Ink, James Vaughn from Ink Master, Kyle Dunbar from Ink Master, and Billy Decola from NY Ink.  There are also several official after parties Friday 11p – 2a at Devil's Advocate, Saturday 11p – 2a at Seven and Sunday 8p – 12a at Market Bar-B-Que.
SATURDAY
SPIRIT OF AMERICAN DANCE CHAMPIONSHIP
Mall of America, Rotunda * Saturday 8a – 8:30p,
Come for the thrill of competition against the Midwest's most talented cheer leading and dance teams in the 11th annual cheer leading and dance championships! Over 2,000 dancers and cheerleaders will compete in the 2014 Spirit of America Championships.  Administered by the Universal Dance Association.  The competition is open to Junior High, Senior High, and College teams.
9TH ANNUAL HEALTH & WELLNESS EXPO
New Brighton Community Center * Saturday 9:30a – 1:30p * FREE
Be Active, Live Life at this New Brighton Community Center Fitness sponsored event providing more than 40 booths of expert advice on health and fitness. Meet fitness instructors, ask questions and perform a few movements at the trial group fitness classes. Our personal trainers will be available in the fitness center to answer questions. Also available will be massage therapists, healthy foods & supplements, chiropractors and wellness leaders. Enjoy free access to the fitness center, membership discounts, wellness assessments, Eagles Nest coupons and more fun freebies. Come and experience new opportunities for your health, and it starts with New Brighton Parks and Recreation.
24:00:00 XTREME THEATRE SMACKDOWN
The Woman's Club of Minneapolis * One Night Only Sat. January 11th
6 new plays created in just 24 hours with some of the Twin Cities' most bad-ass female theatre artists!  Theatrical thrills, spills, triumphs and tragedies – you witness the results – one night only!
MN Historical Society, NW Company Fur Port, Pine City, Sat. 12p–4p * Adults $9, Sen. & College $7, Age 6-17 $6, under 6 FREE
Play a round of Ojibwe snow snake, learn about winter travel during the fur trade or snowshoe across the site's 1.5 miles of nature trails. Plus, toss a curling stone and learn about the game's connection to the North West Company. If the thought of winter activities gives you a brain freeze, then head to the visitor center for a blazing fire and cup of cocoa.
WINTER DAYS – THIS SATURDAY WITH THE 3 RIVERS PARK SYSTEM
Winter Trails Day * Fort Snelling State Park
Leisure Lifelines: The role of Winter Recreation through History * Gooseberry Falls State Park
"Discover Winter" Snowshoe Hike * Jay Cooke State Park
I Can Fish! Ice Fishing * Lake Bemidji State Park
Candlelight Ski/Snowshoe * Lake Carlos State Park
Beginner Snowshoe Hike * Lake Maria State Park
Snowshoeing for Beginners * Mille Lacs Kathio State Park
Candlelight Ski * St. Croix State Park
Animal Tracks and Signs * Wild River State Park
Let's Snowshoe! * William O'Brien State Park
SATURDAY AND ONGOING
TROPICAL TREE IN THE GREAT HALL (WITH ORCHIDS)
Minnesota Landscape Arboretum, Oswald Visitor Canter, January 11th the 31st, various times
A touch of the tropical rainforest in the midst of a Minnesota winter! Beautiful orchids and bromeliads are blooming to create a 20′ tree, with each plant watered by a special drip irrigation system designed by Arboretum staff. Come see a variety of beautiful flowers – 350 orchids and 175 bromeliads, including a vertical carpet of Spanish moss – that traveled from Florida and bask in thoughts of warm weather. To take in its soaring height, view the Tropical Tree from either end of the Great Hall or the balcony area. Then get up close and personal to these amazing plants and savor the unique beauty and scent of each bloom! Then walk to the Snyder Building for another tropical flower display in the Meyer-Deats Conservatory. 
SUNDAY
TCF Bank Stadium * Sunday 8a – 8:30p
Skate on the ice at TCF Bank Stadium before the Hockey City Classic during the Public Free Skate day!  Claim a FREE skate pass while supplies last by visiting TCF Bank Branch locations.
The University of Minnesota will host the 2014 Hockey City Classic Friday, Jan. 17 at TCF Bank Stadium in Minneapolis. The outdoor college hockey doubleheader will showcase the Golden Gopher women's team vs. Minnesota State at 4:30 p.m. and men's team vs. Ohio State at 8 p.m.